James Wilson, DMA, Artistic Director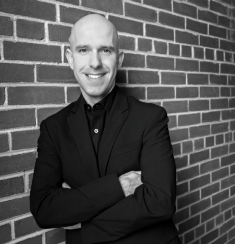 James Wilson is an Associate Professor of Music at Wesley College, where he teaches primarily in the areas of vocal music and music history. In addition to his position with the Choral Society, Dr. Wilson directs the Wesley College Choir, the Kent Chamber Choir, and the Chancel Choir at Wesley UMC in Dover. Recent performances with DCS have included Orff's Carmina Burana, Brahms' Requiem, Handel's Messiah, and Mozart's Requiem. Recent performances with KCC, Kent County's premiere chamber ensemble, have included Herbert Howells' Requiem, Britten's Rejoice in the Lamb, and Seth Bingham's Missa Salvatoris. Wilson has conducted a large number of other masterworks with a variety of ensembles from across the U.S. including the Kensington Consort of North Carolina, the University of Nebraska Chamber Singers and East Campus Choir, and the Boston University Choral Society. He holds degrees from the University of Nebraska-Lincoln (D.M.A.), Boston University (M.M.), and The Hartt School of Music (B.M.) in Hartford, CT.
Professor Wilson is an active member of the Delaware choral music community. He currently serves as President-Elect of the Delaware American Choral Directors Association, a position to which he was elected as chair of College and University Choirs. He is also the outgoing state board representative for the National Collegiate Choral Organization (NCCO), an organization for which he has contributed to several initiatives including publications and competitions. In 2015 he developed and presented the first annual Collegiate Choral Composers Competition with Delaware ACDA. Now entering its third year, the competition provides recordings of each student's piece by a chorus of roughly 100 singers, along with a world premier for the first prize winner.
As a baritone soloist Wilson has performed with Brandywine Baroque, Melomanié, the Manchester Choral Society of New Hampshire, the Braintree Choral Society, the Masterworks Chorale of Boston, The Marsh Chapel Choir at Boston University, the Choral Society of Greensboro, North Carolina and the Voices of Omaha, Nebraska. In the spring of 2008, Wilson appeared with the UNL University Singers at Carnegie Hall in a performance of Haydn's Harmonie Messe. Most recently he has performed in a series of multi-media performances of Franz Schubert's Winterreise, produced in collaboration with Wesley adjunct art professor Joshua Nobiling and pianist David Richardson.
Sherry Roscoe, Accompanist
After
growing up in New Mexico, graduating from college in Iowa, and living in Cleveland, OH, Sherry has been calling Delaware home for the past 20 years.
Sherry received Bachelor's degrees in Music Education (K-12) and Music Therapy from Wartburg College in Waverly, IA. Upon graduation she began teaching elementary music, band and chorus in Caroline County, MD. She then began to work as a private contractor providing Music Therapy services to area schools, nursing homes, and agencies serving those with mental and physical challenges.  The development of Sherry's home music studio began in 1995, and Sherry's Piano Studio continues to thrive, providing piano lessons to students of all ages.
Currently serving as Music Director at Three Stones Church in Dover, Sherry has also served in several local churches as Director of Contemporary Music, Organist, Handbell Director, and Accompanist. She is employed frequently as an accompaniest  in the local area with individuals, groups, and schools.
Sherry is married to Jim Roscoe, and has three children; Bryan, Elyse and Chrystopher.